Labor Day is a holiday that observes the achievements of persevering and driven American workers everywhere. The holiday was created by the labor movement in the late 19th century, becoming a federal holiday in 1894. Today, Labor Day is celebrated across the US with picnics, barbecues, parades, and more. So, why not add some cannabis into the mix? After all, cannabis and CBD products tend to elevate any event. We've rounded up some amazing cannabis products to help you celebrate your individual and collective achievements in the workplace. Whether you hold one of the 320,000+ cannabis jobs in the space or you're in another industry, we appreciate your hard work. End your summer with cannabis products that will help you relax into the fall season as easy as the sun sets.  
City Trees Limited Edition Bomb Pop Live Resin Sauce
Looking for live resin but can't decide on which one to get? City Trees has a cannabis product that combines three versions of live resin: Desert Breeze, Snowman, and The White. They're only making a small batch (1,000 units), so grab one or a few while they're in stock. Using a proprietary extraction system and isolated sanitation rooms, City Trees produces high-quality products to get you higher.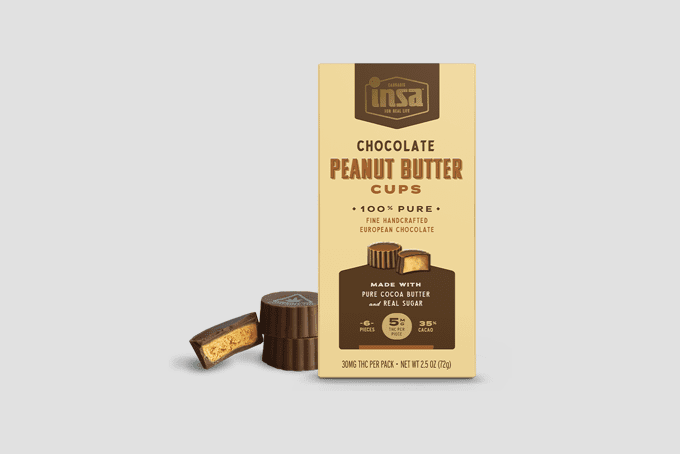 Insa Chocolate Peanut Butter Cups
Insa's handmade cannabis-infused Chocolate Peanut Butter Cups are a must for Labor Day Weekend if you enjoy the classic combo. Their recipe combines delectable European chocolate with salted peanut butter and premier cannabis extracts. There is no filler to this delicious cannabis product, so go wild! Grab a few for your Labor Day BBQ or to help you relax indoors while you catch up on the latest buzz-worthy TV series.  
Jane West CBD Coffee
Coffee just got better with this offering from Jane West. Start Labor Day the right way or keep the celebration going at night with this medium roast Colombian blend that's formulated with twice the CBD infusion. Jane West's CBD Coffee boasts a smooth flavor, a touch of cocoa, as well as some spice. Also, they use CBD that comes from Colorado-grown certified organic hemp, so you know you're getting the best. The CBD is introduced to the coffee beans after roasting, which allows the cannabinoids to bond with the beans' lipids naturally. Celebrate Labor Day with a cup of coffee made for cannabis lovers.  
Leef Organics Bedtime Bundle
Do you feel like relaxing more than partying over Labor Day Weekend? Then the Leef Organics Bedtime Bundle is what you'll need. The bundle comes with five cannabis products: R&R CBN + CBD Balm, Steep CBN Bath Tea, Blue Dream Candle, Blue Dream Room Spray, and an eye mask. While everything in the bundle will help you reach cloud nine, the standout of the pack is the R&R CBN + CBD Balm. Made with natural ingredients, the nourishing balm is the perfect mix of 125 mg of CBD and 200 mg of CBN to help you restore wellness to your body.   
O.penVAPE Heatwave 2.0 Battery
O.penVAPE's limited edition Heat Wave 2.0 battery is beautifully designed and highly functional. The versatile, easy-to-use vape pen allows you to soak in the flavor at a cool 2.4V or heat things up at 4.0V. Not to mention, the O.penVAPE Heatwave 2.0 battery is backed by a "Friend for Life Warranty." It's a reliable cannabis product that will last well past Labor Day Weekend.  
Papa & Barkley Sleep Pomegranate Dark Chocolate 
Combining THC, CBD, and CBN to provide relaxation and sedative effects, this dark chocolate treat will give you a good night's rest. Whether you're looking to hibernate throughout Labor Day, or want to reenergize yourself at night to stay fresh all weekend, this will get the job done. It's made with Fair Trade Certified™ ingredients, as well as fresh-pressed cannabis rosin via a chemical-free process, resulting in one of the best edibles on the market.  
Sunday Goods Lemon Slushie Vape Cartridge 
Sunday Goods has a new lineup of vape cartridges available for your smoking pleasure. There are a variety of flavors to try, including Strawberry Banana Crème, Watermelon OG, and Green Tea. However, the one that sounds like it's worth trying first is Lemon Slushie. The hybrid cannabis vape cartridge will take you back in time with its savory but sweet flavor and citrus traits. It also has a robust Sativa that will provide you with a euphoric boost that will spark creativity.   
Tasteology Blueberry Calm Cannabis Infused Gummies
For those trying to kick back and relax this Labor Day Weekend, Tasteology's Blueberry Calm Cannabis Infused Gummies will make you feel completely serene. Tasteology's fast-acting formula will bring you a blissful, breezy feeling, making that BBQ taste better than usual. Made with real fruit and all-natural ingredients, these gummies deliver a truly higher experience.   
Wunder Cannabis-Infused Sparkling Beverage
Whether you're partying day or night (or both) throughout Labor Day Weekend, this cannabis beverage will help you feel engaged and euphoric. It's packing 2 mg of THC, 2 mg of Delta-8, and 4 mg of CBD to sooth your mind, body, and soul. And it comes in a variety of flavors, including Blood Orange Bitters, Grapefruit Hibiscus, and Lemon Ginger. Wunder also has a stronger version for those who have a higher tolerance. Also, there's as little as 25 calories per can, making it a great, buzz-worthy alternative to your standard cocktail. 
Wyld Gummies 
Wyld is Oregon's leading cannabis edible brand. Their cannabis gummies are infused with real fruit ingredients and flavors that mirror the Pacific Northwest culture. Wyld has hybrid, Sativa, and Indica enhanced gummies that are bite-sized fruit treats made to put you at ease. Choose from various flavors, including Raspberry, Pomegranate, Peach, and Elderberry. If you're looking for a delicious treat for Labor Day Weekend, Wyld's cannabis products are worthy of taking up real estate in your cart.    
Our cannabis staffing agency hopes you have a relaxing Labor Day Weekend! Whether you're in the cannabis industry or not, we hope you find some cannabis treats on this list to help you celebrate the end of summer.